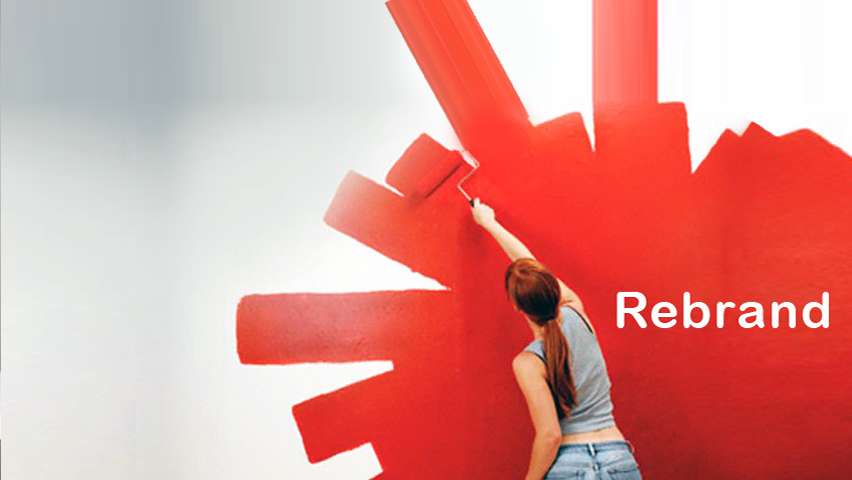 Branding – Can I Refresh My Brand?
"Your brand is what other people say when you're not in the room."– Jeff Bezos, Amazon.
When asked by clients, can I refresh my brand, what is really being asked is can I refresh my brand identity. Your brand is how others perceive your business. It's what they experience working with you. Your brand identity is what you present to your clients in the way of logo, appearance, voice, website and marketing. Can I refresh my brand identity and stay true to the brand? Answer – absolutely! A refresh of your brand identity can often be a great idea.
Everything is changing so rapidly these days that brands can get tired and need a refresh every few years. During this time your business will grow and take new directions. Colours, logo, website and marketing may need an overhaul to stay relevant and meaningful and abreast of design trends. Just remember though, you can invigorate without throwing the baby out with the bathwater!
But – it's still a lot of work and not for the faint-hearted. It may include logo, image styles, messaging, colours, style guides and then everything that follows, from websites and apps to social channels and digital campaigns.
We recently refreshed HotsWots' colours, logo and website and message to stay relevant to our brand and up-to-date.
Here's how we did it.
Analysis of our current clients and ideal target market.
Analysis of who we are at the heart of the business.
Core message.
What was staying/what was changing.
Logo

We definitely wanted to keep the name and our cursor, which we have had since the conception of the business. However, the colour scheme and busy fonts were very dated and not a reflection of the times or of the kind of designs that we do and love for our clients.
The new logo is smart, clear and modern and gives us a much-needed refreshed look. It's also easier to read because we have put the cursor in between the 2 words.
Another important point is to consider where the logo will be displayed. Social media sites these days require a square profile image and lots of directories also require a square logo. If your logo refresh is for a longer logo, remember to get a square one designed at the same time! If your logo needs to go offline as well as online e.g. brochures, on a car, on t-shirts, it all needs to be taken into account when redesigning.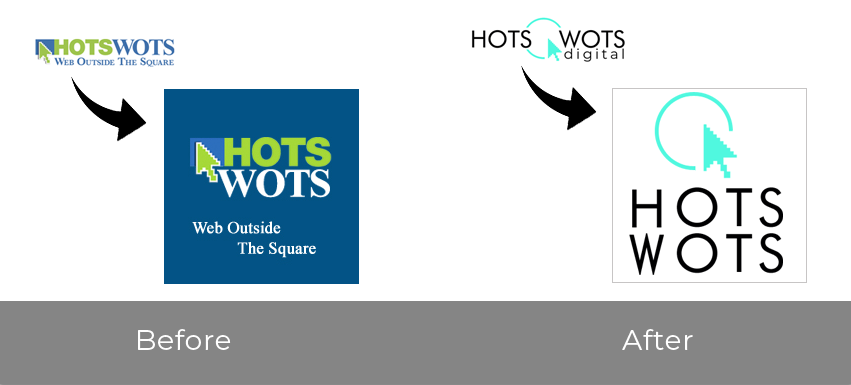 Tagline
When the business started, our core business was websites and web pages. Today we offer a range of digital services and needed to reflect that in our tagline. We lost Web Outside the Square (the 'Wots' part of HotsWots!), and added 'digital' to cover all our services. Short, simple and explicit.
Favicon
Once the logo is updated, your favicon or URL icon will need to be updated as well. HotsWots favicon is of course our cursor and we did our brand refresh with this in mind.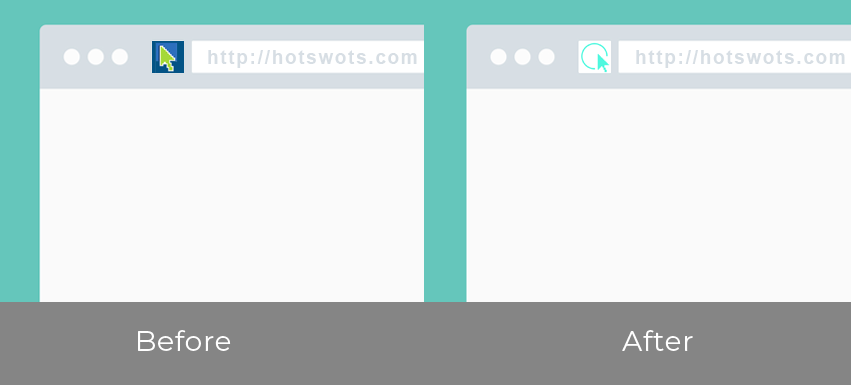 Colours
The blue and green combination needed to go but again felt we wanted to keep the green cursor, as it's been our icon for just under 10 years. However, the shade of green we wanted to update, as we wanted something more striking and modern. We tried Turquoise which is associated with meanings of refreshing, feminine, calming, sophisticated, energy, wisdom, serenity, wholeness, creativity, emotional balance, good luck, spiritual grounding, friendship, love, joy, tranquility, patience, intuition, and loyalty. Not to mention the fact that I have always loved this colour. Offset with black, we ended up with a very simple, modern, smart look – we hope you agree!
Website
A bit like 'plumbers' taps are always leaking', digital marketing businesses often don't get around to redoing or improving their own websites – too busy doing everyone else's.
We redesigned HotsWots' website with an improved message and colour scheme to tie in with the new logo. Simple font, clean and simple design with easy navigation is our preference with lots of white space. We kept very neutral colours offset with small amounts of turquoise to maintain a tranquil feel. There is so much overwhelm now on the Internet that simple is definitely best.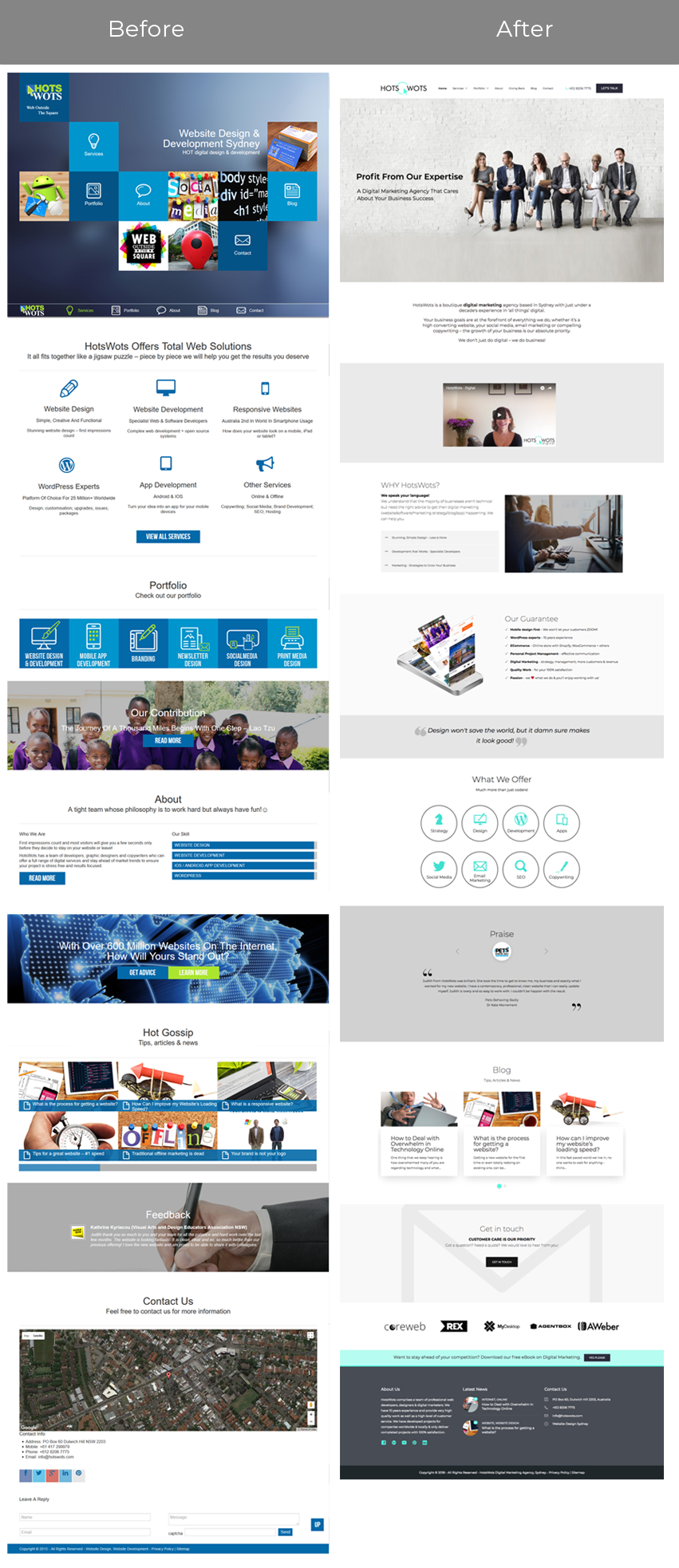 You can check out our new site online here: https://www.hotswots.com
Social Media Banners
Social media banners and directory listings have all been updated to reflect our new look and message.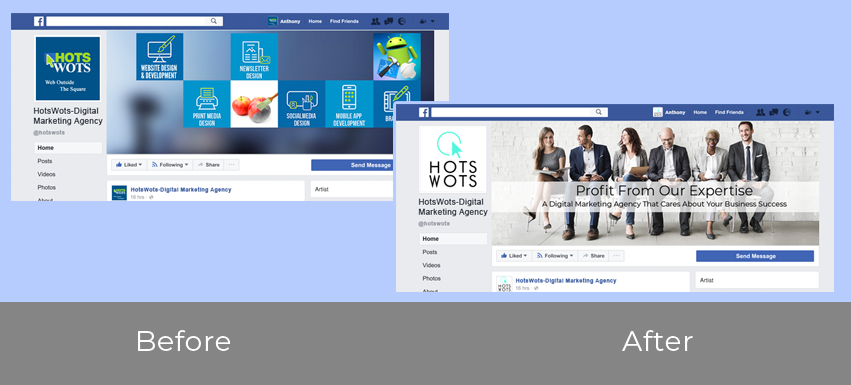 So, let us know if your brand identity needs an overhaul, large or small, and we can put together a strategy for you.
Like this article or found it helpful? Share it!
Join us for updates, tips and inspiration on Facebook and check out our Pinterest images.
Are you looking for a digital marketing agency that cares about your success? Profit from our expertise and contact us for advice today.
Tags In