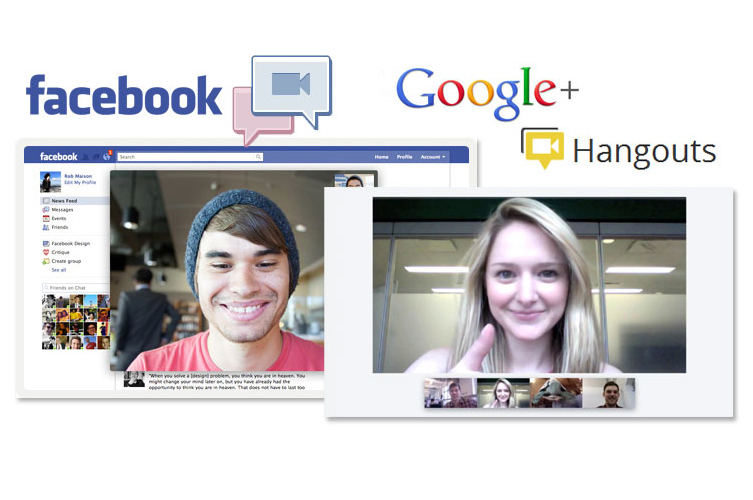 Facebook video calling vs Google+ hangouts
Facebook and Google's rivalry is hotting up!! The latest big thing in the social networks is video chat and Facebook & Microsoft (who owns Skype) and have joined forces to joint rival Google after the launch of Google+. Google+ has a video chat feature called Hangouts where multiple parties can participate in video chat and Facebook's Video Calling is now available and is powered by Skype. Clearly, social networking and video chat is the latest cool thing!
So which one is better – Facebook Video Calling or Google+ Hangouts?
Google+ Hangouts is more fully featured than Facebook Video Calling primarily because it's designed for group chats rather than individual to individual. However, because it's still in a beta testing phase, it has still got problems to iron out.
If you haven't used Hangouts before, you'll be prompted to install a plug-in the first time you click on the "Start a hangout" button. Once it's installed, you're ready to go. Creating a Hangout is as simple as pressing the Start a hangout button on the right side of your main "stream" page (in Google+, your stream is the comments and notifications you get from everyone else). A separate video window then opens and this is your "hangout."
Google+ is based on the idea of circles ( you group friends, family, colleagues and acquaintances into separate circles) so that it's easy to determine what kinds of information you want to share with each of those different groups. So with Hangouts, you can also choose who you want to 'hangout' with – a single circle, multiple circles, or all your circles. Just as with the rest of Google+, the Hangout feature is designed to put you in charge. So if you're viewing all comments and notifications from your Colleagues circle, for example, and you click "Start a hangout," only people in your Colleague circle will see that you've started a hangout and only they can participate. (You can have a video chat with up to 10 people.)
The Hangout pop-out window is larger than the one that appears for Facebook Video Calling. You see a large video of the person to whom you're talking in the main part of the screen. Across the bottom of the screen, there are thumbnails of everyone in the chat, including you. When more than two people participate in a Hangout, the large image shows whoever is talking, Hangouts chooses which person will be centre stage depending on audio feedback. If several people talk at the same time, the video goes back and forth from one to another.
Google+ is still having problems with video and audio and some laptops/computers are crashing during the Hangout. The bugs still need to be ironed out!
Facebook's Video Calling on the other hand is quite stable but is only designed for one-on-one chatting. Because it is powered by Skype it is very simple to use. You can either go to www.facebook.com/videocalling to get started or when you try to use the Video Calling feature you will be prompted to install the plug-in.
Once you've got the plug-in installed, making a video call is really easy. Check out which friends are available on Facebook Chat, double-click on someone's name, and you'll see there's a new icon at the top of the chat screen which is a video camera. Click it to send an invitation for that person to participate in a video chat. They'll receive notification to a video chat, and if they don't have the plug-in installed, they'll be prompted to install it. Video and audio quality is very good which is to be expected.
So, both systems I believe will be heavily used and very popular and although Google+ seems to have more features at present, who knows what Facebook will have in store to keep competing down the track!
Tags In