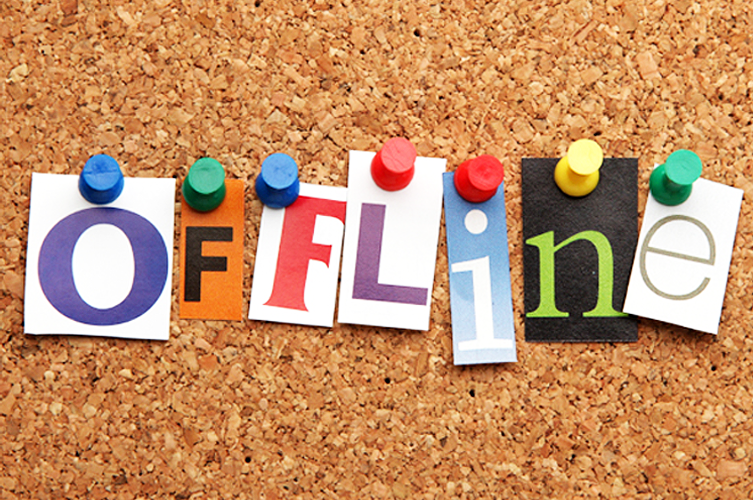 Traditional offline marketing is dead
Well, that may not be the case totally, and I certainly recommend a variety of marketing methods, BUT – with traditional methods like newspaper advertising and yellow pages losing sales hand over fist, do you have a strong online marketing strategy and presence?
The Internet is the biggest influence — at least from a business perspective — on how we are making buying decisions. Is that important for your business? Are you seeing return on investment for your offline marketing?
There are many ways, free and paid, to promote your brand and business online apart from your website and blog e.g. social media sites where you can build a network of strong supporters who will recommend you to others like LinkedIn, Facebook, Twitter, Instagram, Pinterest, YouTube, Google+; free directories; article sites; blog sites; forums; press release sites; pay-per-click advertising; eNewsletters & email marketing; banner advertising and a whole host of other methods. You can even put your logo and some branding onto your PayPal page if you sell products on your website that are linked to PayPal.
To start building your brand recognition though, your brand MUST be consistent across all marketing mediums. First your designer needs to create your 'look' which includes your logo, colour scheme, favicon ( a favicon is the small 16 pixel by 16 pixel picture you see beside some URLs in your browser's address bar, see below.  Often some aspect from the logo is used to keep a consistent look – HotsWots use the cursor from the logo.) and avatar (an avatar is a personalised graphic file that represents a person/business when they post online). 

Are you are going for a corporate business-like look or do you want a more casual, fun approach?  Remember that your creative look needs to be completely aligned to your brand.
Some examples of how HotsWots have incorporated our brand on the Internet are:

• Branded social media pages like the  Facebook Timeline banner (see thumbnail at the start of this post) and Twitter page (on the right).  If you have these designed professionally, you can get your tag line included and key services or products as well as images to support your brand.  It's important to remember though that most social media sites have strict rules about what can and can't be included in branded banners, especially Facebook.  So if you are doing your banners yourself, check the terms and conditions before you get started.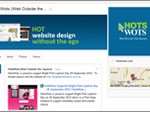 • Animated  gif banners on sites like Google+ .  Animated gif banners can move and change, giving multiple messages but are still viewable on iPhones or iPads unlike the old Flash banners.  If you are getting your designer to do moving images, make sure you ask for gif.  This means you can get different messages/services/products marketed in the one advertisement.  The Display Picture which appears beside your posts, can also be designed with your logo or image.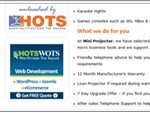 • Animated gif banner advertisement .  Like the banners above for Google+,  animated gif advertisements are viewable on iPhones and iPads.  They can be used for paid banner advertising around the Internet or they can be uploaded onto other websites or blogs you may have or be associated with.  You may have a good client who is happy to put your ad on their website.  HotsWots has our ad on a couple of different websites and it does drive traffic back to our website.
• Interactive Facebook tabs below timeline banner. You can have a Services page linking directly to your website, Welcome page with a give-away and opt-in box to capture visitors' details, Product page etc linking directly to your shopping cart or PayPal account (Ecommerce). We can even make these pages easily editable by you! Or you can have other social media (YouTube, Twitter etc) and blog links here as well.
These are just some of the ways you can start creating strong brand recognition with online marketing across the Internet.  The key is to be consistent!
HotsWots is a website design and development business with personal customer service that encompasses cutting edge design with technical expertise and an understanding of online marketing & SEO. Whether you're brand new to the web or your online presence needs an upgrade, we're here to listen to you and help you take your next step. http://www.hotswots.com