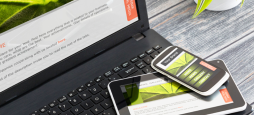 What is a responsive website?
What is a responsive website and should I have one?
Responsive website design means that the website has been designed to be viewed easily on every device, no matter what the screen size, without having to have different versions for all the different mobile devices that are available now and for new devices continually coming onto the market.
According to research approximately 2/3 of all Australians now use a smart phone for all their online requirements which means your website needs to function properly on every device.
Some interesting implications for business is the fact that increasing numbers are using their smartphones to research businesses (including local suppliers and services), purchase products via their mobile device, and to research goods and services at home as well as while out and about.
Mobile devices are often constrained by display size and require a different approach to how content is laid out on the screen. Not only are mobile phones being used but so are a multitude of different devices including 'phablets', tablets, iPads, iPods, desktops, game consoles, TVs, and even wearables like watches – all with different screen sizes.
So can businesses afford to have a website that isn't optimised for mobile? These screen sizes are always going to be changing, so it's imperative that your website can adapt to any screen size, today or in the future.
Responsive layout, including navigation, changes, based on the size and capabilities of the device. For example, on a phone, users would see content shown in a single column view; a tablet might show the same content in two columns. The responsive design responds to the needs of the users and the devices they're using.
Google rolled out its mobile friendly algorithm in April 2015, which means that Google will " boost the rankings of mobile-friendly pages — pages that are legible and usable on mobile devices — in mobile search results worldwide. (Conversely, pages designed for only large screens may see a significant decrease in rankings in mobile search results.)" (Ref: http://googlewebmastercentral.blogspot.com.au/2015/04/faqs-april-21st-mobile-friendly.html) This all means that Google likes mobile friendly websites so much that they will rank them higher in their search results.
So, when you ask – should my website be responsive? The answer is a resounding YES YES YES!
HotsWots is a website design & development business with personal customer service that combines the latest designs with technical expertise and an understanding of online marketing. Whether you're brand new to the web or your online presence needs an upgrade, we're here help you take your next step. Contact us at info@hotswots.com today