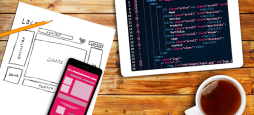 What is the process for getting a website?
Getting a new website for the first time or even totally redoing an existing one, can be a daunting task for many businesses. What most people want to know is what is the process? Am I going to have to dedicate a lot of time that I don't have?
At HotsWots we break the process down into manageable parts so that it isn't overwhelming for our clients. Full consultation and support with the client happens at each stage.
If there is no logo or colour scheme, that's where we will start. HotsWots has an easy questionnaire that is fast to fill out and will prompt you about such things as colour, tagline, symbols, icons etc so that we have a starting point to start to understand your requirements and preferences. If you require complete branding for your business, we can also assist with this service.
Next, planning.

What are your objectives e.g. do you require a membership site or are you selling products.
Who is your target audience?
Review of your current site if there is one and what is working and what isn't.
General Sitemap. What is going to be included so that the most important messages are covered on the home page and navigation is quick and easy around the website.
Remember the 8 second rule: Every website needs to answer in the first 8 seconds if their visitors are to stay, engage and take action. These are: Why am I here (i.e. – What is your website about); Why do I care (i.e. – What's in it for me?); What should I do now (i.e. – A clear call to action)
Planning the content – images, videos, writing for the Internet, writing for the search engines.

Design – HotsWots provides another easy to answer questionnaire to help work out what your preferences are. Unless of course, you are already clear about what you want.
Development – once design has been agreed to, development process begins.
Content – HotsWots offers a copywriting service for those wishing to have their content written for them. Having professional copywriting is certainly worth the money as not only is it written for the Internet but also for the search engines. HotsWots will also do image searching and sizing as an extra service if required.
Google submission – Analytics, Sitemap, Webmaster Tools, Google Business Page & Map all helps for your website to be found in the search engines.
SEO – Search Engine Optimisation is the final part to the process if you want your website to found in the search engines. HotsWots implements a combination of onsite Meta Data (what Google crawls for your website to be found in the search engine) and offsite linking.
HotsWots is a website design & development business with personal customer service that combines the latest designs with technical expertise and an understanding of online marketing. Whether you're brand new to the web or your online presence needs an upgrade, we're here help you take your next step. Contact us at info@hotswots.com today.